I'm going to see Pedro the Lion play at the Bowery Ballroom tonight. The band -- which kind of was just lead singer / songwriter David Bazan anyway - "broke up" over a decade ago and David went out on his own, but they've toured in recent years, I remember seeing them play their seminal 2002 album Control live a few years ago (maybe way back in 2012?) and they're on tour again this summer, playing mostly their classic hits from nearly 20 years ago along with a few Bazan solo efforts. I have been a longtime fan and can't wait for the show but anytime they spring back up into my life I always think about religion, partly because so many of their songs have religious themes and partly because Bazan publicly discussed (and on his solo albums, wrote about) losing his faith and becoming an atheist (I think). Which is interesting to me, perhaps because it parallels my life but also because his early songs - while having a ton of religious themes and imagery - always seemed to be questioning religion, questioning faith, and as an outsider trying to read his mind through song lyrics, seemed to indicate he was on a path to abandoning religion, which he eventually did (causing much strife in his family).

Anyway, the opening track to their first full-length from way back in 2000 is supposedly the track they are opening with on tour this summer and hopefully tonight. It is - awesomely - categorized by iTunes as "Spiritual and Religious"... which yeah, maybe it is. And maybe it was a clue that hey, Bazan saw something wrong with both blind faith and overly religious people whose only goal is "to get to Heaven" while ignoring their fellow man on Earth. I'm sure he wasn't writing about Mike Pence in 2000 but...
Powered by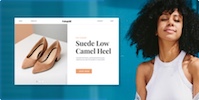 Create your own unique website with customizable templates.